What is Alchemy Clay?
Alchemy clay is what is used on the O-Clay tab as shown below: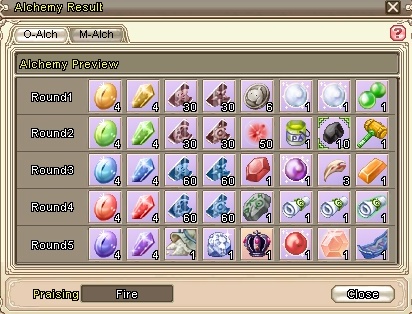 This is just an example of what the o-clay table looks like, since it is different everyday. You can not only clay for the items on the table, but it is a daily as well for anyone looking for a cheap and easy way to gain experience towards leveling.
To view the O-Clay table of the day, you can open up any sprite (F6, F7, F8) and click the button on the bottom left of the sprite interface, where it says Alchemy, and then click the O-Clay tab.
Where It Can Be Found
You can purchase Alchemy Clays from the Alchemist NPCs in each of the three cities for anywhere from 32g 50s to 26g each, depending on your city fame; 0 fame from the city you buy it in will result in the highest possible price of 32g 50s and 50k or capped fame will give you 26g per clay.
Tables
The tables repeat weekly and are the same every week.
Keys and Notes
Green text
Armor Stone Variants and Armor Rune Stones
Purple text
Weapon Stone Variants and Weapon Rune Stones
Note #1
For the "Rune Stones / Blueprints" column, each o-clay table will have both the Intermediate Rune Stone blueprint and basic rune stones for the names mentioned. Ie. Speech (in the table) = there will be a Basic Speech Rune Stone and an Intermediate Speech Rune Stone Blueprint.
Links
Rune Stone Effects | Resonance Stone Effects | Original Table Linked here
Here is the table: